Hasselback Potatoes
Time check: 11:18 pm. It's a supposed summer month already but the rain is still pouring outside. It has been since earlier today. I wonder when will the weather authority officially declare the dry season then I don't have to worry about pouring surprises. But of course, we cannot question nature as it is God's, like what my mother always remind me. Just how I wish summer starts kicking in already.

The best deal here is that I promised to explore and do more baking this summer and of course blog about each of it, but all this lazy weather temp do is tuck me in bed longer than it normally is. Glad I still made it with this no-pain, Hasselback Potatoes for breakfast this morning. Thanks to free online recipes, though I'm not really that religious in terms of using indicated ingredients (as some may not be available) and following cooking direction as suggested. Most of the time I do a little cooking or baking modification to make it my own.

Did I mention I love potatoes? I normally use it for rice alternative apart from pasta. It's by far the most effective trimming down trick for me.


So, let's get down to business here.
Hasselback Potatoes is almost a one-ingredient recipe, minus the seasonings which we cannot disregard, of course - salt and pepper - but to spice it up, I added bread crumbs and cheddar cheese, turn the right oven knob on to achieve that crunchy look.
You can actually use any potatoes available. For this I used medium-sized ones. Large would have been better. On a clean surface, place one potato at a time, make thin, evenly spaced cuts, about two-thirds the way through. Drizzle oil evenly to the potatoes and sprinkle with salt and pepper.
Preheat oven to 200C and roast potatoes to 30 to 45 minutes.
If desired, you may add breadcrumbs and cheese. Simply mix the two together, sprinkle over the potatoes and bake further for 15-20 minutes or until golden brown and crisp.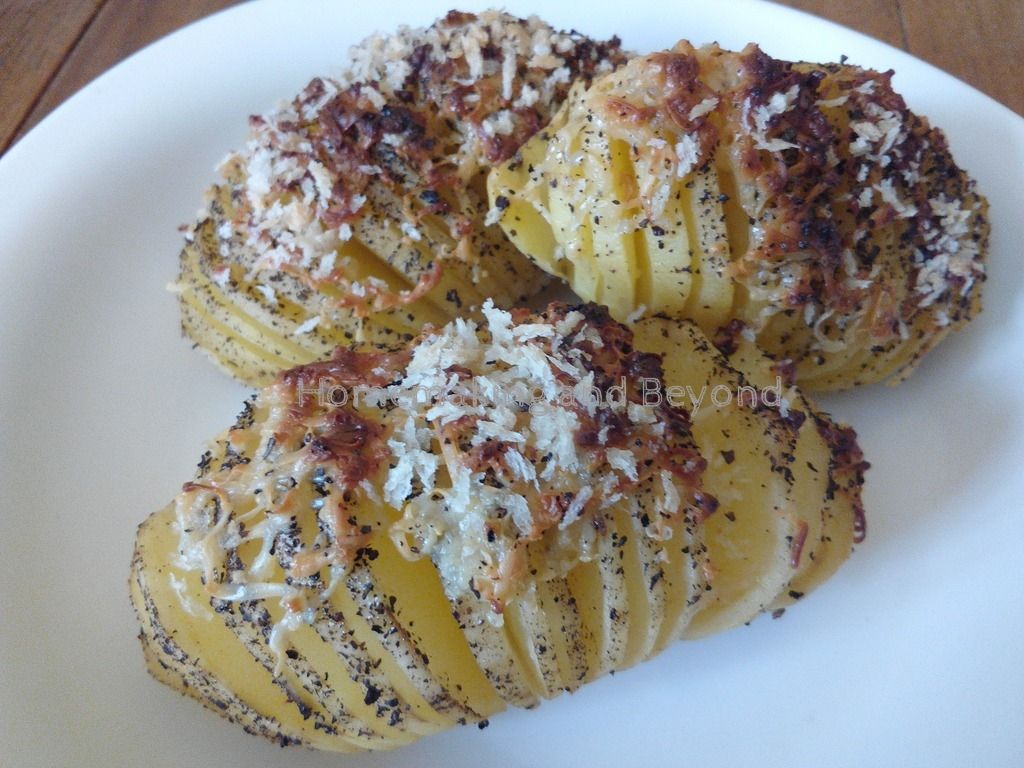 Like french fries, Hasselback Pototoes are best when consumed immediately.