Making Homemade Chocolate from 100% Cacao Powder
At first, I thought making chocolates from scratch is a job that is best left to the professionals. I realized I was wrong. That is after giving in to it the first time and somehow succeed…well, at least after everyone delighted on it for the first time too – including my colleagues at work.

I have low tolerance on sweets really, including chocolates and when I do, I prefer dark and nutty ones…though that didn't stop me from exploring.

Of course I wouldn't have made it without the handy recipes from the web. As early as December last year, while my cacao powder is still on process, I have already collected some recipes on how to make chocolate at home.

So now let's get started…

The Ingredients:
¾ cup butter
½ cup cacao powder (alternatively you can use cocoa powder found at grocery stores)
¼ cup all-purpose flour
¼ - ½ cup icing or granulated sugar (honey or any type of sweetener are okay too)
½ cup powdered milk

Ideas for addition
The above ingredients form the foundation of the recipe. However, if you want to jazz it up a bit, you may consider adding any of these:



 cocoa nibs


dried


berries


raisin


crushed nuts


seeds


rice crisps


chili powder


mint


vanilla extract


green tea extract


or anything else you like!


I added mine with about ½ cups of chopped almonds.
The Steps
1. Grate or cut butter into small cubes. It will melt easier that way.
2. Place butter in a heat-safe cup or bowl. Then place the cup or bowl in a shallow pan containing a small amount (about 1 cup) of simmering water. Stir the butter occasionally until smooth.
3. Temporarily, remove the bowl from heat. Pour in cocoa powder and stir.
4. Gradually pour the rest of the dry ingredients (flour, sugar, powdered milk). Put the bowl back to the pan and stir continuously until smooth.
5. You can add the rest of the additions at this point.
6. Place the chocolate into mold. Let it cool at room temperature before placing it in the fridge. An hour will do and about 30 minutes if in the freezer.
7. Indulge in moderation with family and some good friends.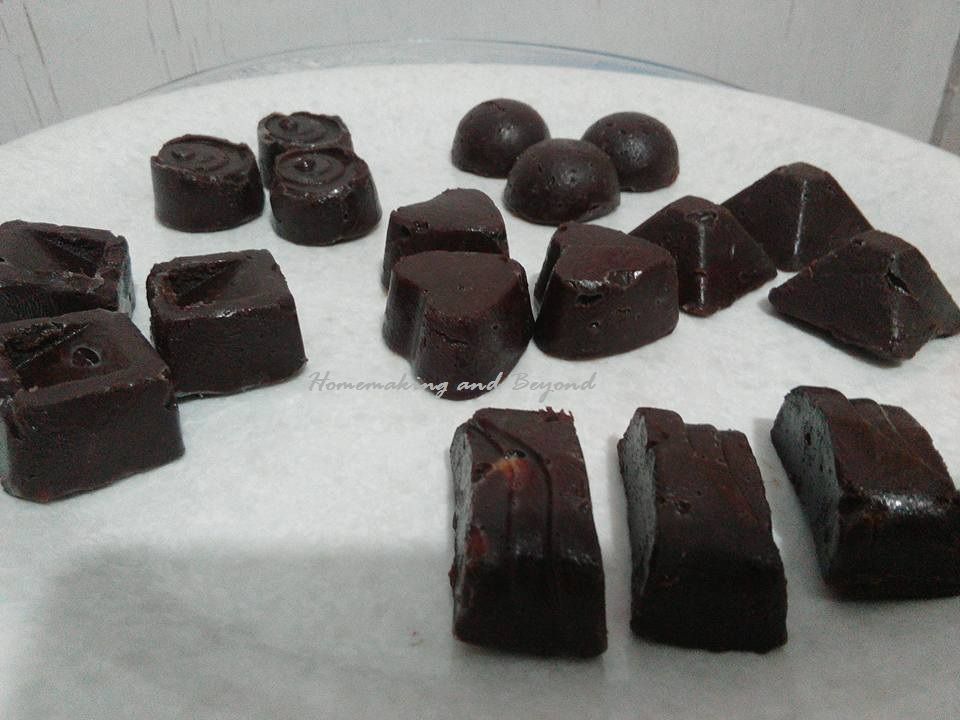 So what I did was a refrigerated chocolate. Meaning it has to stay cooled for it to maintain its shape. Although it is great, but I am also looking to produce something that is shelf stable. So I am in search for the best ways to temper pure cacao powder-made chocolate. With hundreds of sources online, it must be as easy as looking for
tonkers at MF
.
I'm starting to fall in love in to this baking thing. I can't wait for summer to kick in then I would have all the time in the world to get messy.