Tips for Maintaining an Organized Living Room
1. Welcome the Wastebasket. If trash tends to accumulate in the living room, adding a waste basket might cut down on clutter. Few living rooms actually have wastebasket in them; they're not attractive and they can smell. Counteract this by choosing a can that fits your room's decor. If you know food will be thrown away here, get one with a lid and some trash bags.

2. Keep that Surface Clutter-free. Papers, books, brochures and magazines tend to accumulate on flat surface all around the house, and the living room is no different. The living room is often more cluttered because it's a central gathering place in the house. Make a quick sweep of all flat surfaces by piling papers in a bin, then sorting and purging as necessary.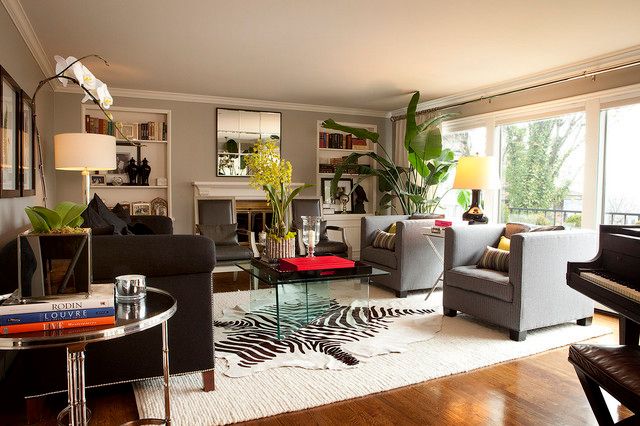 image by Google
3. Create a Play Zone. If toys are taking over your living room, it's time to put them in timeout. Unused corners in a living room transform into great play areas because the walls serve to block encroaching clutter. Corners are also good area to put a small bookcase or children's table. Add rolling bins for toy storage so your little brother or sister doesn't have to feel confined, but is encouraged to pick up after he or she is done playing.
4. Coffee Table Functionality. If you have a coffee table or forgot to have one due to the clutter, it's time to reassess its organizational capacity. Coffee tables that look great but don't have any storage for magazines, remote controls, or even drink coasters, are probably making life more difficult. Consider adding low storage cubes, rolling basket or bins to stick under the table.
5. Take Advantage of Space Behind the Sofa. , Organize extra blankets, pillows, and candles in an accessible place - behind the sofa. It's a great place to put a trunk, cabinet or low bookcase. plus it gives you another surface to put a lamp or show off some treasured objects.
6. Grow your House Plants. It can be a jungle in the family room if you have a green thumb. Organize your plants with a cute plant stand or several decorative pots. The type of house plants you have will determine where you'll place them in the room, so keep that in mind while looking for a stand. Stands typically come in corner, pedestal, and tiered configurations and some even have drawers so you can keep your fertilizer and watering can nearby.
Looking for more good reads? Check out
beginning ukulele
- an article on how to begin and eventually bond with a ukulele.