Giving Your Bathroom a Clean Makeover
Bathrooms need to be cleaned often. And unlike other rooms in our home, they cannot be just "picked up" and still be considered clean. This 15-minute bathroom cleanup allows us to maintain the cleanliness of the bathroom without spending hours scrubbing and disinfecting.

Grab all the necessary supplies

Having the supplies all together (rev a shelf trash) at the beginning of the job is essential to avoid distractions.

Pick up all the dirty clothing and put it inside a hamper

Don't worry about anything except the dirty clothes. Don't interrupt your clothes gathering mission by throwing away trash or putting away bottles of shampoo. Only worry about the dirty clothing. Don't bother trying to turn socks right side out or unfold pant legs. Just throw it all in a hamper or basket.

Use a disinfectant wipe to wipe down the sink and tub area

Casually wipe down the tub. you may need to spend more time on the sink. Wear disposable gloves to protect your skin and help you clean without worrying about what you touch.

Using a toilet brush and a toilet cleaner; briefly scrub out the inside of the toilet

Again this is not a full out scrubbing of the toilet. We are maintaining from the last time we scrubbed, or quickly getting it presentable enough for unexpected guests.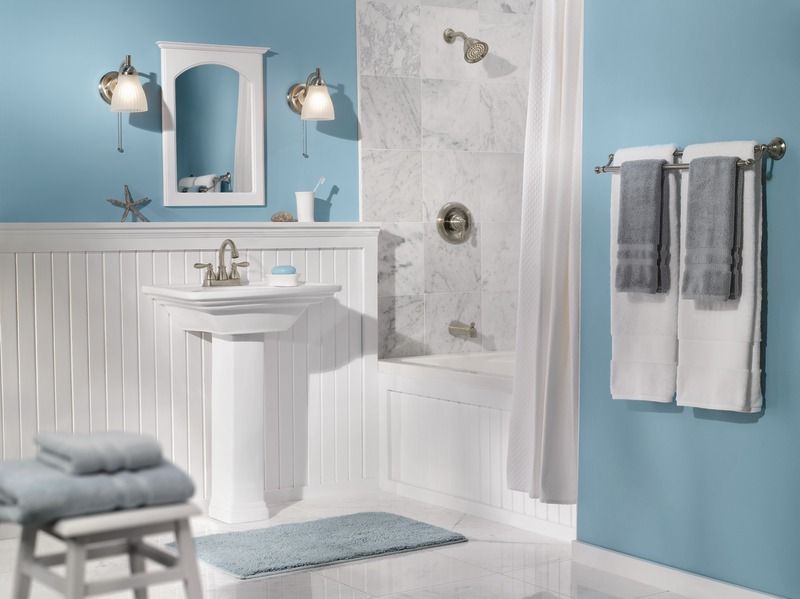 image by Google
Using glass cleaner or vinegar, wipe down the mirror
I like to put a little time into this task even when I'm in a hurry. guests will probably spend the time examining themselves in your mirror. they will inevitably notice dinginess and streaks.
Return items that belong in the bathroom to their proper places
Don't take time to reorganize the medicine of linen cabinets. Just place the items back where they belong. leave organizing for when you have more time.
Dust down the ceiling and corners
Consider if the walls in your home need to be washed. Dust and clean all wall art. be careful when cleaning framed art and photographs. Never spray cleaner or water onto the frame. The liquid can seep behind the glass and damage the pictures. Instead light wet a clean cloth to wipe the frame and glass.
Dust the vents and fans
Dust the outside of the vents and fans. you may need to use a gentle cleanser mixed with water and a cleaning cloth. Take down light fixtures and gently wash and dry them before replacing.
Take down draperies, curtains, blinds, etc. to wash or have cleaned according to the directions
Dust down any blinds and other window treatments. Dust down and wash windowsills and corners. Wash the inside and outsides of windows. Take down and rinse off screens before replacing.
Shake out bathroom rags
Launder them and hang to dry.
Sweep and mop the floor
One of the best ways to get a floor really clean is to use a rag or towel while on your hands and knees. If this is not an option try going barefoot and scooting a large towel around the floor with your feet. It provides more contact and pressure with the floor. Press gently, and be careful and slow. Even though this is the last step, the floor is not the best place to rest.