Debittering Bitter Gourd
Ask any child what vegetable he dislikes most and he will tell you ampalaya or bitter gourd! Yes ampalaya is the "love it or leave it" vegetable. A good source of vitamin A,B and C, folic acid, phosphorus and calcium and a reliable medicinal herb, it is adored by diabetes - afflicted individuals because it lowers blood sugar levels, served by mothers because of its iron overload, but scorned by children because of its bitter flavor.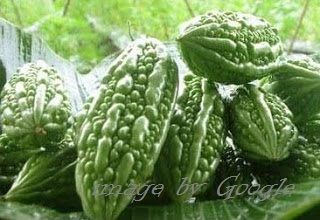 Choose larger, plumper
ampalaya
with big creases over the elongated, wrinkled ones. The former are less bitter. Cook green
ampalaya
instead of ripened ones. Besides being bitter, ripened ones become soft and mashy when cooked.
The
ampalaya
-with-eggs recipe is considered the simplest, easiest and most popular way to prepare. But how do yu get children to eat
ampalaya
? How do you serve it in style? Aside from making the dish look attractive, it should be cooked in a delicious, nutritious and less bitter style.
Here's a quick
ampalaya-with-egg
recipe minus the bitter taste. Served in a happy, sweet and unbitter mood, this recipe is the best.


Wash the ampalaya before slicing. Cut lengthwise and scoop out seeds. Slice as thinly as possible. (Do not wash the ampalaya after it has been sliced because the middle white part produce where the seed pods reside a more bitter flavor when washed.


Saute garlic, onions and tomatoes. Tomatoes mask the bitter flavor and at the same time moisten the ampalaya.


Ass the ampalaya and the beaten egg together so ampalaya won't be overcooked. Add salt to taste.


Stir as little as possible to prevent squeezing out more of ampalaya's bitter flavor.


Do not add water. The ampalaya will be cooked by its own moisture and that of a tomatoes. Simmer.


The cooked ampalaya should still appear green - not olive green or brownish green.


That's it! Off here now to look for
bark collar for small dogs
for my Mookie.