Long Overdue Acknowledgement
If you are a constant visitor here, you have probably noticed the changes of this blog's look. When it comes to customizing my blog themes my budget is always tight, (silly grin). Probably because I want to convince myself I can do it – not all though but how else do I get to learn than trying things out by myself? Does that make sense to you? I have been in this blogland for 5 years and none of my blogs are touched by any designers around even those I know of.

But having been offered a free hand, how am I supposed to say NO? That's right and Homemaking and Beyond happened to be the first among my blog pages to have received a free blog layout design from the generous Gagay of I am but Gagay for free!

It's exactly been a year since I first met Gagay and who would have known I would be introduced to her on her birthday last year? Meeting her was actually one of my 2011 highlights. Wanna know why? Because it was her who made me (along with our other friends/Davao bloggers) try exotic crocodile dishes at the Riverwalk Restaurant inside the Davao's famous, Crocodile Park!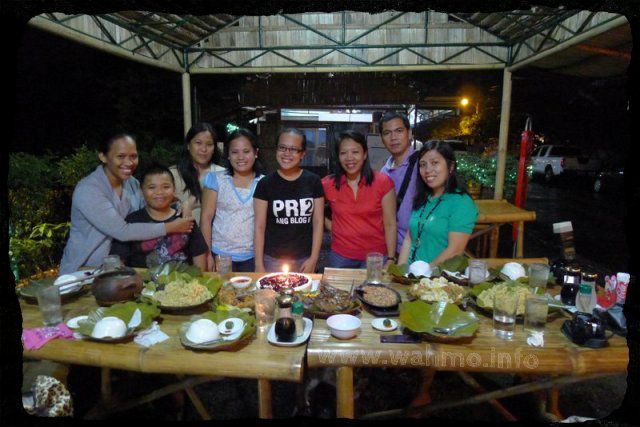 There's us with the Davao bloggers on Gagay's night
from left: Adah and her son, Moi, Genevive, the birthday girl, Gagay, Verna Liza (in red) and the couple Ace and Crislyn Nierva
Hmm… can you digest what I just said?
Crocodile dishes… yes we've tried a few. :D
Okay, ease out…
Anyway, so since then we became virtually close. We normally hit each other through Facebook's chat window. I didn't know she has a knack on this blog layout editing thing until she opened up about it and eventually offered me to try what she can do.
Now here it is…
Everything you see around this page except the blog posts is made by her. I like it simple and neat – just exactly how I want all my pages to be like. I won't be surprise if one day she'll join the circle of prolific people in providing blog designing services in the blog land one day. :)
Thanks a lot dok! ;)