Family Weekend Treat: Bacon and Beans Croquettes
I took this recipe off a little recipe pad that went for a freebie with the magazines I bought some months ago. I've been meaning to try it out but only had the chance this weekend. Well, not bad because I thought it could make a perfect family weekend treat.
Here we go for the main
ingredients
:
¾ kilo potato
6 tbsp. cream
2 tbsp. butter
1/8 tsp. nutmeg
1/8 tsp. salt
1/8 tsp. ground white pepper
½ cup cooked bacon, coarsely chopped (You may also use sliced ham)
1 Can Pork and beans (165 g)
For the coating
:
¾ cup all-purpose flour
3 pcs egg white
1 cup Japanese breadcrumbs
Cooking oil for deep frying
For the sauce
:
½ cup mayonnaise
½ tsp. mustard
1/8 tsp. liquid seasoning
1 tsp. garlic, finely chopped
Preparation
: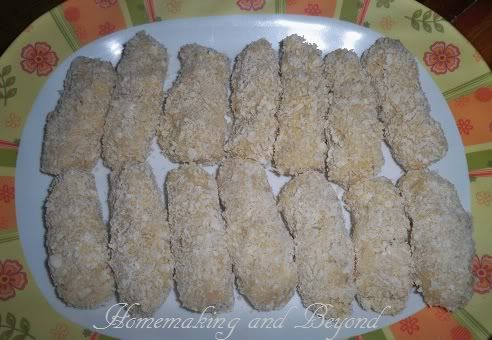 Boil peeled potatoes until cooked. While still hot, mash potatoes while putting cream, butter, nutmeg, salt and pepper. Once mashed, add bacon and pork and beans. Form into 2-inch logs or croquettes. Dredge in all-purpose flour, dip in egg whites and coat with breadcrumbs.
Deep fry until golden crisp!
For the sauce, simply mix all ingredients together.
There you go… a perfect healthy snack for the whole family!
More of these exciting recipes on the coming weekends… see you! ;)