Missing my Bed :(
No I didn't lose it. It's just that since I got a new living room corner set, I seemed to rather sleep there at night and for quite a while now instead of using my bed. Or is it because I just don't want to be away from my computer?

This is my new living room corner set.

It is where I get to still sleep comfortably regardless of its size. I spend most of my time sitting there doing my online job during the day, watch the evening news and back to working till I feel I need to hit the sack at night. That is how attached I am to my couch and vice versa. :D
Now this is my bed...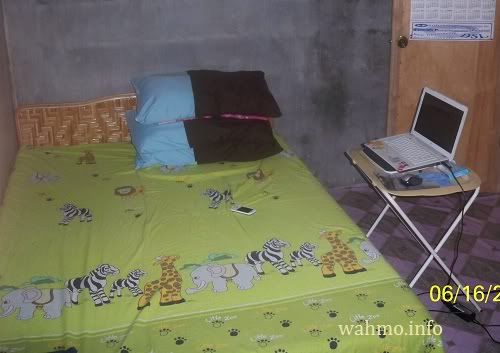 It is made of wood similar to bamboo. I don't know exactly how it is called in English but we locally call it "uway". Its texture is way softer than that of bamboo. Perhaps the reason why I don't find my bedroom any more attractive is because of its dull, unpainted walls. I know I did mention about that painting project I have in my to-do list before. If only I can make things happen faster. I really miss my bed. :(