Frozen Fruitcake Salad: First Attempt and it's a Big Flop!
I have here something I wish I have done right and perfect on first attempt. Found the recipe from a magazine. I thought the cost to gather all the ingredients together won't hurt the budget so I gave it a shot.
The thing is called Frozen Fruitcake Salad.

I tried it out during my niece's birthday last month.
Below are the actual ingredients and the preparation:
24 pc broas
1 pc green apple, diced with peel
10 pc grapes, halved
For the fruit mixture:
1 can (439 g) Del Monte Fiesta Fruit Cocktail, drained (reserved syrup)
1 can (300 ml) condensed milk
1 pack (250 ml) all-purpose cream
1 cup mayonnaise
¼ tsp iodized fine salt
Preparation:
1. In a bowl, combine Del Monte Fiesta Fruit Cocktail with the other ingredients and mix thoroughly. Set aside.
2. Using 8"x12" pan, arrange half of broas to cove the bottom of the pan. Drizzle with half of fruit cocktail syrup and half of fruit mixture, apple and grapes.
3. Do the same with the remaining broas, syrup and fruits. Cover and freeze overnight.
Sounds easy, yes? But still mine was a big flop primarily because I failed to use the required pan size made me unable to cover the entire toasts arrangement. This is how it supposed to look like when done.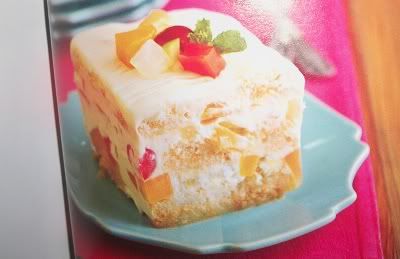 I wouldn't have mind using toasted muffins for alternative since broas are not available at the local store that time oh well… this is just my first time anyway. But hey... you can still try it out. Who knows… you may do it right the first time than I did. ;)